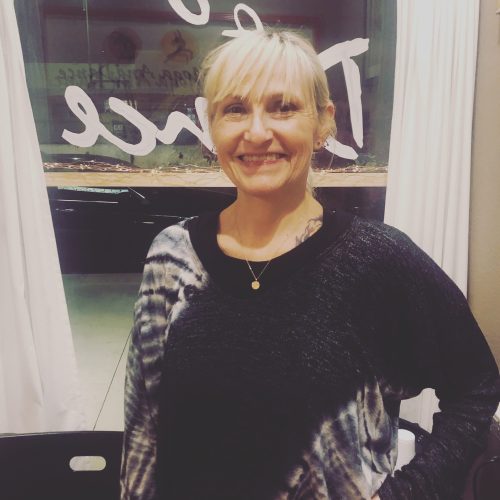 Cherie Bodenstab, is an artist, designer, musician, healing drum circle facilitator, and certified Qigong,Tai Chi instructor. Cherie has had a passion for art, music/drumming, and fashion all her life. She spent years in the fashion industry, working 24/7 in NYC and Los Angeles, Cherie left the fashion industry in 2003 and began her new career in education, teaching fashion design in Los Angeles. Having the time to relieve the everyday stress, Cherie came upon Qigong, a healing art form. Feeling connected to Qigong, Cherie decided to pursue her teaching certificate with Lee Holden, Qigong master in Santa Cruz. Cherie wanted to explore more healing art forms and, found UpBeat Drum Circle with Christine Stevens's facilitator workshop. The workshop hit a note with Cherie, and she knew that incorporating Qigong and Drumming along with Art therapy would help not just her but also her students and anyone who needed to reduce stress, anxiety, depression, and addiction. With all that, Cherie developed Healing Drumming for Recovery, where she can share her knowledge of Qigong, Drumming and Art Therapy for healing.
Cherie has worked with Toms shoes as an Artist for their Style your Sole events through out Los Angeles/Orange County.
Cherie, does customized shoe designs as well as teaches group and private Qigong/Tai Chi classes, and Facilitates Healing Drum Circles.
https://www.healingdrummingforrecovery.com